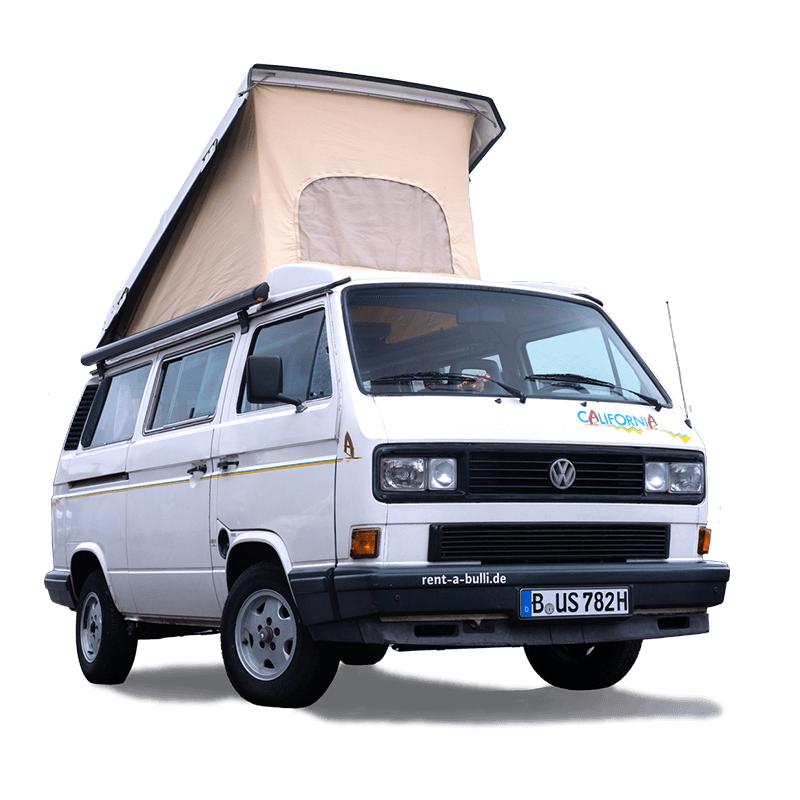 VW T3 California folding top
Rent your

VW T3 California folding top

now.

Here it is, our VW T3 California with folding roof as an alternative to the high roof. Visually a bit sleeker than the high-roof pullover, but still far from the usual mainstream on Germany's roads and campsites. Our folding-roof Bullis are original VW T3 California from Westfalia, which offer a maximum of nostalgia, but also space and contemporary comfort. The interior is identical in all Bullis, only the exterior colour and curtain pattern vary, which is why you reserve a category. First choice for Bulli lovers and travel nostalgics who enjoy youngtimers, want to travel authentically and consciously recognise the journey as the destination.
Original

VW T3 California folding top

equipment
Driving light manual
5 gear shift
55 litres diesel
Parking Assist: Passenger
No Rain Sensor, but Interval Wiping
Tyre Pressure Check: at the Petrol Station
Hill Start Assist: Hand Brake
Cruise Control: Do not change Foot Position
No airbags, but three-point belts in front, 1x three-point 1x lap belt in rear
Air Conditioning: Windows
Multifunction Display: Speedometer and Rev Counter
Fatigue Detection: Mindfulness
Window Regulator with 2 Cranks
Camping equipment
Ticket to the Moon® Hammock for Two
Axe
Hand Broom and Doormat
Camping table and 2 chairs
Portable LED Lantern (dimmable, warm light)
Tea Lights and Tea Light Lanterns
Camping Power Cable
Can for Fresh Water Tank
Clothesline and Clothes Pegs
Optional equipment
Bicycle carrier for 2 bicycles
Child seat (9-18kg) or booster seat
Bedding
Chemical toilet
Motorhome equipment
Fiamma Awning
Swivel Front Seats
Indoor Table
4 seats
4 berths
Socket with 220V up to 300W for on the road
CD radio with new speakers - incl. audio cable e.g. for your smartphone
Refrigerator
Two Burner Gas Cooker
Sink with 50l fresh water tank
Parking heater
Second Battery
Large 16 Litre Gas Tank
Manual Folding Roof
Travel guide
Kitchen Equipment
Bialetti® Espresso Maker
4 knives, fork, large spoon, small spoon
2 chef's knives
1 corkscrew, potato peeler, can opener
2 wooden spoons, 1 ladle
1 spaghetti strainer
2 chopping boards
3 pots and 1 pan
4 cups, plates and bowls
2 egg cups
1 large plastic bowl
4 large and small glasses, 2 wine glasses
Technical data of the VW T3 California folding roof
Fuel type / consumption (per 100 km)

Vehicle dimensions (LxWxH)
rental prices
DISCOUNT LEVELS: 5% AS OF 6 | 10% AS OF 13 | 15% AS OF 21 | 20% AS OF 28 NIGHTS
For bookings made 7 days or more before departure, the minimum rental period is only 3 nights. No handovers or returns on Sundays, public holidays and bridge days.
Winter season
01.01. to 28.02.
Minimum rental period: 3 nights
53 - 69 €
early season
01.03. to 30.04.
Minimum rental period: 3 (Easter holidays: 6, Whitsun: 4) nights
57 - 74 €
Pre-season
01.05. to 31.05.
Minimum rental period: 3 nights
61 - 79 €
Mid-season
01.06. to 30.06.
Minimum rental period: 3 nights
65 - 84 €
Main season
01.07. to 31.08.
Minimum rental period: 6 nights
69 - 89 €
Post-season
01.09. to 30.09.
Minimum rental period: 3 nights
65 - 84 €
Late season
01.10. to 31.10.
Minimum rental period: 3 (autumn holidays: 6) nights
61 - 79 €
End season
01.11. to 31.12.
Minimum rental period: 3 nights
53 - 69 €
VW T3 California folding top
250 km pro Nacht inklusive

rent-a-bulli.de Travel Guarantee

24/7 support during the trip

Complete equipment without extra costs

Detailed instruction and test drive

Approval for low emission zone

TÜV and Gas Test Annually

Overhauled by Tornau Motoren®
Any questions? Just give us a call.
+49 175 9 221 551