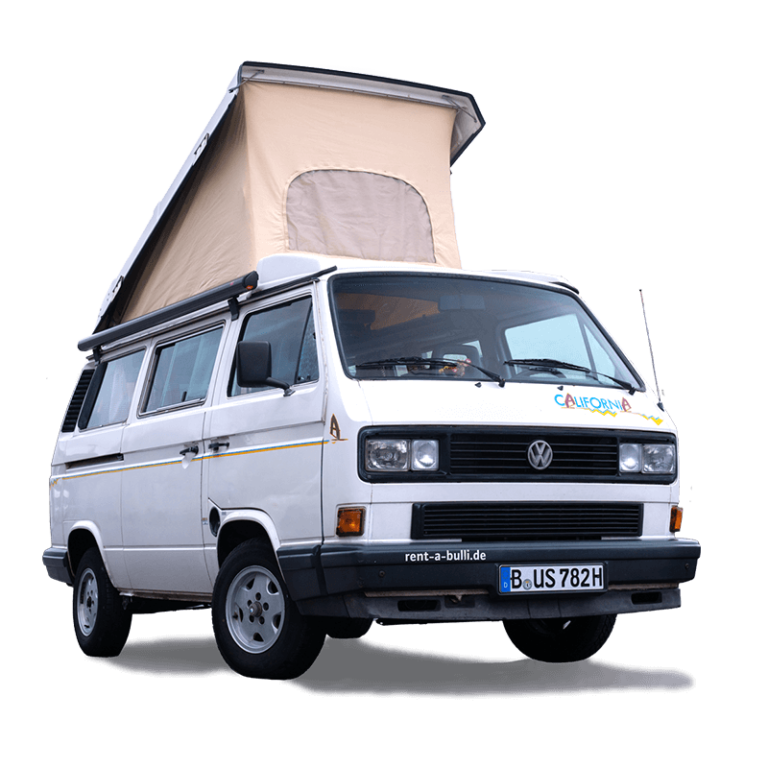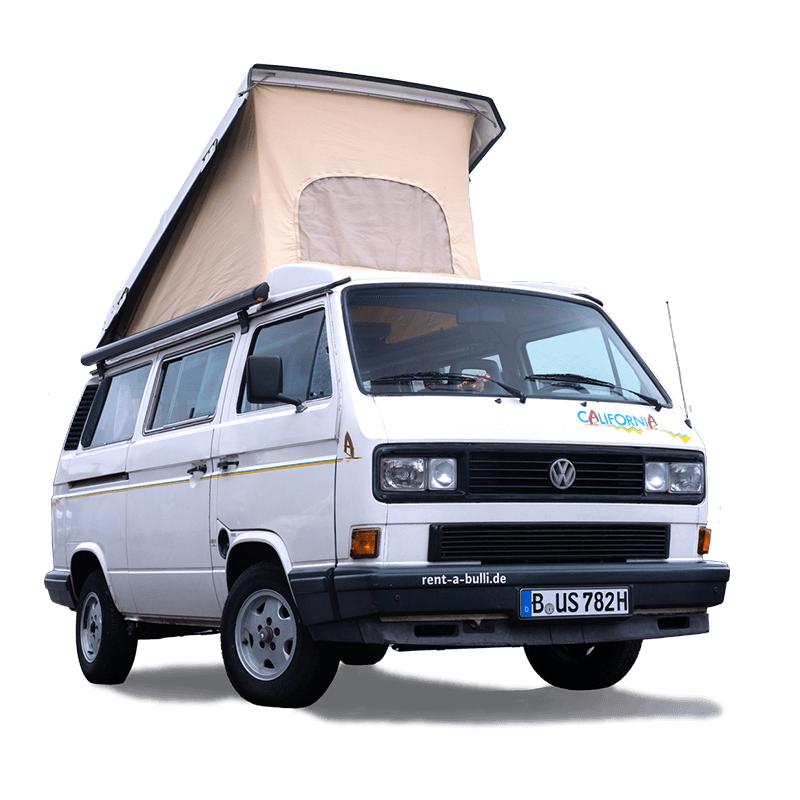 Your VW T3 California retractable roof
complete camping equipment

250 km per night included

24/7 personal phone support

detailed briefing and test drive
47€ - 99€ / Night
| Discount levels |   |
| --- | --- |
| 6 nights | 5 % Discount |
| 13 nights | 10 % Discount |
| 21 nights | 15 % Discount |
| 28 nights | 20 % Discount |
Your #1 mobile home rental to love in Berlin
Rent your

VW T3 California folding top

now.

There it is, our VW T3 California with folding roof as an alternative to the high roof. Visually a bit sleeker than the high roof bulli, but still far from the usual mainstream on Germany's roads and campsites. Our folding roof bullis are original VW T3 California from Westfalia, which have to offer a maximum of nostalgia, but also space and contemporary comfort....
Your Bulli brings everything with it
Original California vehicle equipment

Driving light manual
5 gear shift
55 litres diesel
Parking Assist: Passenger
No Rain Sensor, but Interval Wiping
Tyre Pressure Check: at the Petrol Station
Hill Start Assist: Hand Brake
Cruise Control: Do not change Foot Position
No airbags, but three-point belts in front, 1x three-point 1x lap belt in rear
Air Conditioning: Windows
Multifunction Display: Speedometer and Rev Counter
Fatigue Detection: Mindfulness
Window Regulator with 2 Cranks

Fiamma Awning
Swivel Front Seats
Indoor Table
4 seats
4 berths
Socket with 220V up to 300W for on the road
CD radio with new speakers - incl. audio cable e.g. for your smartphone
Refrigerator
Two Burner Gas Cooker
Sink with 50l fresh water tank
Parking heater
Second Battery
Large 16 Litre Gas Tank
Manual Folding Roof

Bialetti® Espresso Maker
4 knives, fork, large spoon, small spoon
2 chef's knives
1 corkscrew, potato peeler, can opener
2 wooden spoons, 1 ladle
1 spaghetti strainer
2 chopping boards
3 pots and 1 pan
4 cups, plates and bowls
2 egg cups
1 large plastic bowl
4 large and small glasses, 2 wine glasses

Ticket to the Moon® Hammock for Two
Axe
Hand Broom and Doormat
Camping table and 2 chairs
Portable LED Lantern (dimmable, warm light)
Tea Lights and Tea Light Lanterns
Camping Power Cable
Can for Fresh Water Tank
Clothesline and Clothes Pegs

Bicycle carrier for 2 bicycles
Child seat (9-18kg) or booster seat
Bedding
Chemical toilet
FAQ
What class of driver's license do I need?

You only need a normal class B driver's license (up to 3.5t).

Is there a minimum age or other requirement to drive the Bulli?

You must have a driver's license for at least one year. If you have not yet reached the age of 23, the deductible increases from 1500 € to 3000 €. However, you can halve the deductible or even reduce it to 0 € by taking out extra insurance during the booking process.

How many kilometers can I drive with my Bulli?

With our VW T3 California models you are allowed to drive 250 kilometers per overnight stay. For our new models such as the VW T6.1 California and the Grand California 600 you have no mileage limit, but we recommend to calculate with about 300 kilometers per night, because at some point the driving is also exhausting and actually you should find a nice place and let your soul dangle - not to mention the fuel consumption.

Are there any hidden costs with bullion rental?

No. With us there are no extra costs. The van is always rented with full equipment - whether for three nights, three weeks or three months camping vacation. There are now a few additional options that you can book, but basically you can just go and do not have to fear any additional costs when returning your camper.

How much is the deposit for the VW Camper?

The deposit is 750 € or 1500 € for tenants without a German passport. This can be deposited at the handover of the vehicle free of charge by credit card or also gladly transferred in advance. We do not accept a deposit in cash.

What insurance coverage do I have in the event of an accident?

You always drive with a comprehensive insurance that covers all damages. If you have caused the damage yourself, there is a deductible of 1500 € or 3000 € if you have not yet reached the age of 23. However, it is possible to reduce this deductible to 0 € with an additional insurance. You will find information about this in the booking process. Should you not be able to make a final decision there, you can also take out the additional insurance directly before departure.

Which countries can I go to?

Comprehensive insurance is valid for the following countries:

Austria (A), Belgium (B), Bulgaria (BG), Czech Republic (CZ), Germany (D), Denmark (DK), Spain (E), Estonia (EST), France (F), Finland (FIN), United Kingdom (GB), Greece (GR), Hungary (H), Italy (I), Ireland (IRL), Luxembourg (L), Lithuania (LT), Latvia (LV), Malta (M), Norway (N), Netherlands (NL), Portugal (P), Poland (PL), Romania (RO), Sweden (S), Slovakia (SK), Slovenia (SLO), Switzerland (CH), Albania (AL), Andorra (AND), Bosnia-Herzegovina (BIH), Belarus Belarus (BY), Croatia (HR), Moldova (MD), Macedonia (MK), Montenegro (MNE), Serbia (SRB).
All countries not listed may not be entered.

Is it possible to pick up or return a Bulli on the weekend?

You can pick up your van from Monday to Saturday and drop it off any day of the week - even on Sundays!
Any questions? Just give us a call.
+49 175 9 221 551
But now let's put butter on the bullis
Technical data of the VW T3 California folding roof
Fuel type / consumption (per 100 km)

Vehicle dimensions (LxWxH)
compare Campers now