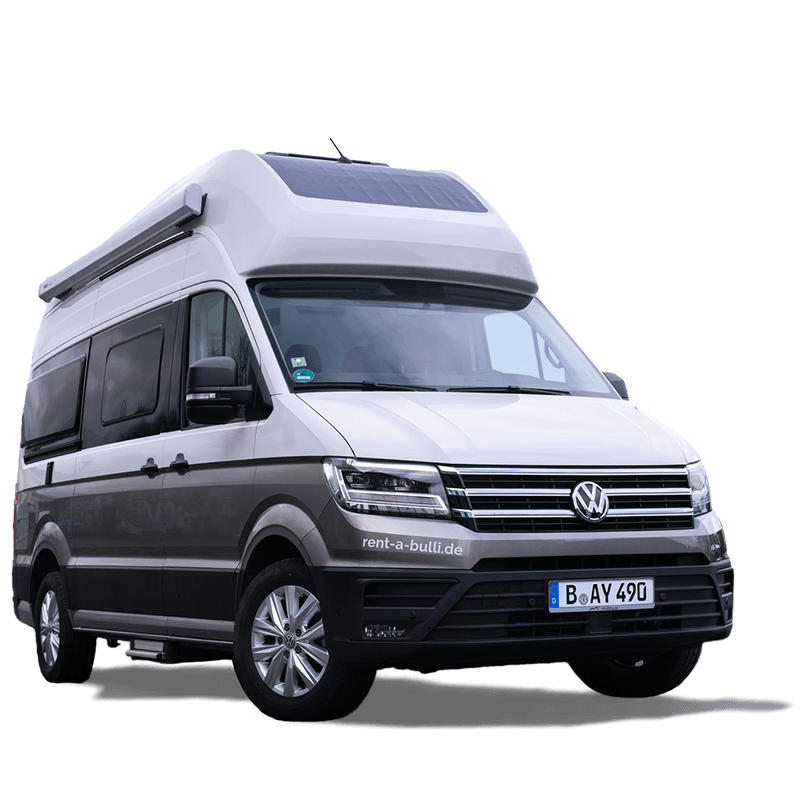 Rent your

VW Grand California 600

now.

Would you like a little more? Then treat yourself to the "Grannie". With a good 6m in length and a fixed high roof, our largest offers real sleeping space for up to 4 people. Our Grand California has great equipment and is available to you as a long-distance expert and premium travel motorhome. In addition to air conditioning, the DSG automatic transmission and numerous electronic helpers ensure relaxed travelling and solid overnight accommodation. If you like new technology and appreciate the generous amount of space, you will literally love our Grand California 600.
Original

VW Grand California 600

equipment
LED Automatic Headlights with Cornering Lights
8 speed DSG automatic
80 Litres Diesel
Fully Automatic Parking Assistant with Reversing Camera
Spurhalte- und Seitenwindassistent
ESP and ABS
automatic parking steering assist
Rain Sensor
Tyre Pressure Monitoring
Hill Start Assist
Cruise Control with Spacer (ACC)
Head and Side Airbags in the Front
3-zone Air Conditioning and Heated Seats
Multifunction Display
Fatigue Detection
Power Windows
Alarm System with Interior Monitoring
Colored Ambient Lighting
Camping equipment
Ticket to the Moon® Hammock for Two
Axe
Hand Broom and Doormat
Camping table and 2 chairs
Portable LED Lantern (dimmable, warm light)
Tea Lights and Tea Light Lanterns
Camping Power Cable
Can for Fresh Water Tank
Clothesline and Clothes Pegs
Optional equipment
Bicycle carrier for 3 bicycles
Child seat (9-18kg) or booster seat
Bedding
Motorhome equipment
Toilet + Indoor Shower
Fiamma Awning
Swivel Front Seats
Indoor Table
4 seats
3+1 berths
Socket with 220V up to 150W for on the Road
CD Radio with 8 Speakers - with Bluetooth and Audio Cable e.g. for your Smartphone
Refrigerator
Two Burner Gas Cooker
Sink with 100l Fresh Water Tank
Parking heater
Second and third battery
Gas Bottle(s)
Panorama Windows in the High Roof
Travel guide
Kitchen Equipment
Bialetti® Espresso Maker
4 knives, fork, large spoon, small spoon
2 chef's knives
1 corkscrew, potato peeler, can opener
2 wooden spoons, 1 ladle
1 spaghetti strainer
2 chopping boards
3 pots and 1 pan
4 cups, plates and bowls
2 egg cups
1 large plastic bowl
4 large and small glasses, 2 wine glasses
Technical data of the VW Grand California 600
Fuel type / consumption (per 100 km)

Vehicle dimensions (LxWxH)
compare Campers now
rental prices
DISCOUNT LEVELS: 5% AS OF 6 | 10% AS OF 13 | 15% AS OF 21 | 20% AS OF 28 NIGHTS
For bookings made 7 days or more before departure, the minimum rental period is only 3 nights. No handovers or returns on Sundays, public holidays and bridge days.
Winter season
01.01. to 28.02.
Minimum rental period: 3 nights
77 - 99 €
early season
01.03. to 30.04.
Minimum rental period: 3 (Easter holidays: 6, Whitsun: 4) nights
87 - 109 €
Pre-season
01.05. to 31.05.
Minimum rental period: 3 nights
111 - 139 €
Mid-season
01.06. to 30.06.
Minimum rental period: 3 nights
135 - 169 €
Main season
01.07. to 31.08.
Minimum rental period: 13 nights
135 - 169 €
Post-season
01.09. to 30.09.
Minimum rental period: 3 nights
87 - 119 €
Late season
01.10. to 31.10.
Minimum rental period: 3 (autumn holidays: 6) nights
81 - 109 €
End season
01.11. to 31.12.
Minimum rental period: 3 nights
77 - 99 €
VW Grand California 600
rent-a-bulli.de Travel Guarantee

24/7 support during the trip

Complete equipment without extra costs

Detailed instruction and test drive
Any questions? Just give us a call.
+49 175 9 221 551