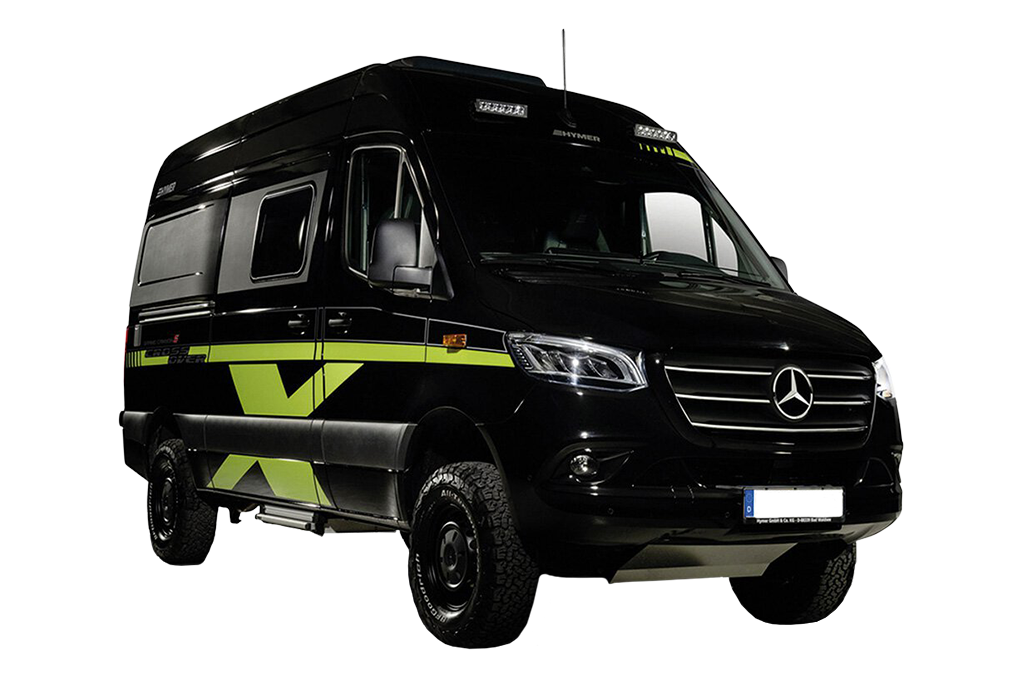 HYMER Grand Canyon S Crossover
Rent your

HYMER Grand Canyon S Crossover

now.

Querfeldein! Und zwar mit dem brandneuen und einzigartigen Offroad Campingmobil von Hymer auf Mercedes Spinter Basis. Dieser hochwertige Camper ist für all diejenigen, die keine Lust mehr auf Asphalt haben. Mit dem Hymer Grand Canyon S Crossover könnt ihr genauso komfortabel campen und cruisen, wie ihr auch an die entlegensten Orte mit ihm kommt. Und das auch ohne Strassen. Denn mit diesen Allrad Wohnmobil sind kaum noch Grenzen gesetzt – man muss lediglich die Angst vor der mitunter auftretenden Fahrzeugneigung überwinden. Der Hymer Grand Canyon S Crossover ist in seiner Art ein sehr seltenes Campingmobil und wir sind stolz ihn Dir anbieten zu können.
Original

HYMER Grand Canyon S Crossover

equipment
LED Automatic Headlights with Cornering Lights
9G Tronic mit permanentem Allrad
93 Liter Diesel
Fully Automatic Parking Assistant with Reversing Camera
Spurhalte- und Seitenwindassistent
ESP and ABS
Traffic sign recognition
automatic parking steering assist
Rain Sensor
Tyre Pressure Monitoring
Hill Start Assist
Cruise Control with Spacer (ACC)
Head and Side Airbags in the Front
3-zone Air Conditioning and Heated Seats
Multifunction Display
Fatigue Detection
Power Windows
Alarm System with Interior Monitoring
Leather / Microfleece Seats
Colored Ambient Lighting
Schränke in "Chiavenna Nussbaum"
Camping equipment
Ticket to the Moon® Hammock for Two
Axe
Hand Broom and Doormat
Camping table and 2 chairs
Portable LED Lantern (dimmable, warm light)
Tea Lights and Tea Light Lanterns
Camping Power Cable
Can for Fresh Water Tank
Clothesline and Clothes Pegs
Optional equipment
Child seat (9-18kg) or booster seat
Bedding
Motorhome equipment
Toilet + Indoor Shower
Fiamma Awning
Swivel Front Seats
Indoor Table
4 seats
4 berths
Steckdose mit 220V bis 1500W für unterwegs
MBUX 10,25″ Multimedia System inkl. Navigation mit Multifunktionslenkrad, DAB+ und Touchscreen
Refrigerator
Two Burner Gas Cooker
Sink with 100l Fresh Water Tank
Parking heater
Parking heater
Second and third battery
Gas Bottle(s)
Manual Folding Roof
Travel guide
Kitchen Equipment
Bialetti® Espresso Maker
4 knives, fork, large spoon, small spoon
2 chef's knives
1 corkscrew, potato peeler, can opener
2 wooden spoons, 1 ladle
1 spaghetti strainer
2 chopping boards
3 pots and 1 pan
4 cups, plates and bowls
2 egg cups
1 large plastic bowl
4 large and small glasses, 2 wine glasses
Technische Daten vom HYMER Grand Canyon S Crossover
Fuel type / consumption (per 100 km)

Vehicle dimensions (LxWxH)
compare Campers now
rental prices
DISCOUNT LEVELS: 5% AS OF 6 | 10% AS OF 13 | 15% AS OF 21 | 20% AS OF 28 NIGHTS
For bookings made 7 days or more before departure, the minimum rental period is only 3 nights. No handovers or returns on Sundays, public holidays and bridge days.
Winter season
01.01. to 28.02.
Mindest-Mietzeit: 10 Nächte
199 €
early season
01.03. to 30.04.
Mindest-Mietzeit: 10 Nächte
199 €
Pre-season
01.05. to 31.05.
Mindest-Mietzeit: 10 Nächte
199 €
Mid-season
01.06. to 30.06.
Mindest-Mietzeit: 10 Nächte
199 €
Main season
01.07. to 31.08.
Mindest-Mietzeit: 10 Nächte
199 €
Post-season
01.09. to 30.09.
Mindest-Mietzeit: 10 Nächte
199 €
Late season
01.10. to 31.10.
Mindest-Mietzeit: 10 Nächte
199 €
End season
01.11. to 31.12.
Mindest-Mietzeit: 10 Nächte
199 €
HYMER Grand Canyon S Crossover
300 km pro Nacht inklusive

rent-a-bulli.de Travel Guarantee

24/7 support during the trip

Complete equipment without extra costs

Detailed instruction and test drive
Any questions? Just give us a call.
+49 175 9 221 551